How To Meal Plan 101
Choosing what to eat every day can be stressful, especially when you're already juggling work, family, and social obligations. People tend to make quick but unnutritious last-minute meals or just order food delivery. 
There is, without a doubt, a better way to feed yourself and your family: meal planning. This approach makes sure that you are never left wondering what is for dinner 
In this blog post, we'll show you how starting a healthier eating journey doesn't have to be complicated or overwhelming. Planning a well-rounded and nutritious meal becomes achievable and enjoyable with the proper knowledge and a thoughtful approach.
What is meal planning?
Meal planning is the process of creating a weekly menu that meets your nutritional needs.
Meal planning can be customized according to your needs. Some people stick to a meal plan with a specific goal in mind, such as losing weight or managing specific health conditions. Others plan meals to stay within a budget or to plan meals for an entire family. 
It all depends on how you want to manage and plan your meals. The ultimate goal is to help you feel your best, take the guesswork out of dinnertime, stick to a budget, and stay on track with your nutrition goals.
Why should we have a meal plan?
There are many reasons to plan your meals in advance. Everyone can benefit from meal planning, regardless of their goal, because it is a great way to get organized while creating a plan for the week.
It takes some effort to plan out what you're going to eat during the week, but having a plan in place reduces the stress of planning and cooking meals every day. This may be especially helpful for people who work long hours, have a chronic illness such as diabetes, or have a family to feed. You don't even have to follow your meal plan exactly — just having a rough guide can be enough to take some of the stress out of grocery shopping and preparing meals every week.
Meal planning can help you maintain a healthy eating pattern. If you don't have a plan in place, you might be more tempted to order out on a busy evening, even if it's not something you're going to truly enjoy. However, if you know you have a healthy and delicious meal waiting for you at home, ordering out or a trip to the drive-thru may seem less appealing.
Eating healthier is beneficial for everyone, but it is especially beneficial for those who need to pay close attention to what they eat, like those with diabetes. A meal plan can make healthy eating simpler for people with medical conditions. You're not worried about what foods go with what, and you know ahead of time that these foods have been approved by your doctor or a dietitian to help you manage your condition.
You may even save money by meal planning, not only by eating fewer meals out but also by reducing food waste. When you go grocery shopping without a plan, you just buy whatever sounds good at the moment, but you have no idea what to do with it. That food will eventually sit in your fridge or cupboard until you throw it out. However, when you plan your meals, you know what and how much food to buy, so there is less food (and money) wasted.
How to make a meal plan?
Repetition is key. You don't have to eat the same thing every day, but limiting the number of different meals you have during the week will make things easier. It is suggested that you choose two or three breakfast options and two or three lunch options for the week (at most), and add variety with dinner and snacks. You can even repeat those meals for a few weeks before switching things up.
Having a few staple meals every week can help keep you from feeling overwhelmed while ensuring there's enough variety. For example, have fish for one dinner every week, soup for another, and pasta for another. You can change the recipe by trying different variations of each dish to keep things interesting 
Having a few staple meals each week can help you avoid feeling overwhelmed while still providing enough variety. For example, have fish for one dinner every week, soup for another, and pasta for another. You can change the recipe by trying different variations of each dish to keep things interesting 
When it comes to staying on track with your healthy eating goals, meal prepping is a game changer. Every week, set aside a day or a few hours to prepare components that can be easily assembled into meals throughout the week. Set aside a few hours on a non-busy day to batch-cook any meals or ingredients that repeat, so you're ready for the week.
If you or any family members have food allergies, dietary restrictions, or strong dislikes, try to make the meal work for everyone so that you don't have to prepare multiple dishes. Make sure to consistently modify your favorite recipes to make them healthier by substituting ingredients for whole food alternatives. 
You can also keep the main dish the same but allow family members to customize their meals based on their needs and preferences by providing different options on the side or as add-ons to the meal. 
Make sure to stay organized by logging your meals and recipes in an app or writing them down with a pen and paper. Keep your meals organized by storing them in clear containers labeled with the name of the food item and the date it was made or purchased.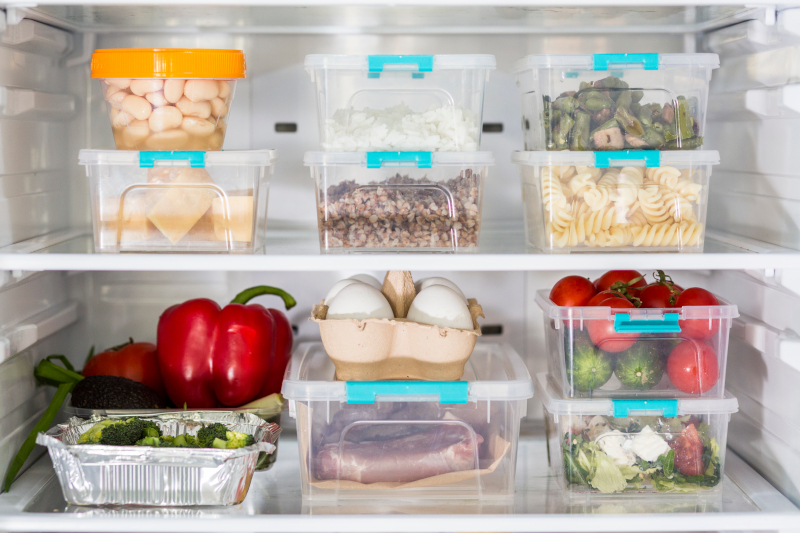 If you're still feeling lost and overwhelmed, or if you'd like advice on how to plan meals for a specific goal (such as weight loss or blood sugar control), you can always seek help from a registered dietitian.
Conclusion
Meal planning involves creating a weekly menu. By reducing food-related decision-making, it can reduce stress and save time during the week. Planning your meals ahead of time can also help you stick to a healthy diet because you'll be less tempted to eat out at the end of the day.
Creating a healthy meal plan is a skill that combines creativity, knowledge, and mindfulness. By focusing on a well-balanced plate, planning meals, and having a diverse selection of food groups, you're laying the foundation for a lifetime of nourishment and well-being. 
Remember that the key is to approach meal planning with flexibility and enjoyment, adapting it to your preferences and lifestyle
Stay tuned for more nutrition-related insights where we will learn more about smart grocery shopping tips in our upcoming blog posts!